Turkish Citizenship
Obtaining Turkish Citizenship
If you want to work, live or do business on a permanent basis in Turkey, obtaining Turkish citizenship is the most obvious route. We are often asked by customers as to how one does this, and one of the common questions is whether Turkey allows dual citizenship. They do, but applicants should check with their home country because a few do. There are different ways in which to apply for citizenship.
Citizenship by Investment: A law enacted on June 13,2022 stated that anyone who buys Turkish property worth $400.000 (USD) is eligible for citizenship,and should keeps it for and for three years.This opportunity appeals to high-income earners worldwide, who want to work, do business, and live here.
Long-Term Residence: Foreigners who have lived in Turkey for five years or more on a residency permit are eligible, only if they have not spent over 185 days a year outside the country. You also need to show you can financially support yourself when applying for citizenship. Furthermore, officials will ask you to attend an interview in Turkish and will conduct an on-the-spot home check.
Family Connections: Turkey's Citizenship Law No 403 states that anyone with a Turkish mother and father can automatically become a Turkish citizen. Alternatively, if you have married a Turk, you can apply after three years of marriage only if you have been living together, you do not engage in behaviour that threatens the union and are not a national security risk.
Turquoise Card System: The Turquoise card is another option. It is not a citizenship but grants residents many of the same rights as a Turkish national. This system is for investors, high-level educators, or anyone who will contribute to arts, sports, social and cultural activities. It is nonetheless the equivalent of a green card.
Q: Becoming A Turkish Citizen And Its Process
A: Property valued at a minimum of $400.000 (USD) is required for applying to the General Directorate of Land Registry and Cadastre. The application is then forwarded to the Ministry Of Environment and Urbanization, which is followed by a value check done by appraisers for verification. However sale of the property is prohibited for up to three years. Lastly the application goes to the General Directorate of Population and Citizenship Affairs and the buyers final signatures are required.
Q: Can Multiple Properties Be Purchased To Meet The $400.000(USD) Value
A: If all properties utilised for meeting the $400.000 (USD) requirement are applied for at the same time then it is acceptable to use multiple properties for application.
Q: Are Necessary Interviews Involved?
A: No.
Q: Upon Obtaining Turkish Citizenship Will Serving In The Military Be A Requirement?
A: If prior military service is proven or the applicant is above the age of 22 military service is not required.
Q: Will I Need To Come To Turkey To Get Citizenship?
A: No.
Q: Can More Than One Person Apply For One Title Deed And Citizenship?
A: Yes. You, your spouse and your children under the age of 18.
Q: How Long Is This Process?
A: Up to 30 days if all the required documents are present.
Q: Applying For Citizenship With The Property I Bought Earlier?
A: You can apply for Turkish citizenship with title deed applications.
Q: Can I get Residence Permit During This Process?
A: You and your family can get a Residence Permit.
Q: Is The Applicant Allowed To Pursue Any Business In Turkey?
A: Yes.
Q: What Documents Are Required For A Turkish Citizenship?
A: After purchasing property with us, The Azad team helps you to supply all required documents.
Q: I Have An Invalid Child Over 18 Years Old. Can He/She Get Citizenship?
A: If proven they are unable to take care of themselves, they are permitted Turkish citizenship with their parents with special application documents.
Q: Can I Have Multiple Nationalities In Turkey?
A: The Turkish Government allows multiple nationalities. However, we recommend consulting your consulate regarding your original nationality because some countries like China, India and Saudi Arabia do not recognize multiple nationalities.
Q: Will The Applicant Require Bringing Their Whole Family To Turkey In The Process?
A: No. Only documents belonging to your whole family should be with you.
Q: Do You Have To Be Living In Turkey To Obtain Citizenship?
A: No.
Q: Can I Purchase A Commercial Property With Rental Income Guarantee? Does This Allow Me To Get Citizenship By Investment?
A: Yes, any type of property is viable.
Q: Is There An Alternative Way To Obtain Turkish Citizenship?
A: You can apply for a Turquoise Card if citizenship via investment is not affordable. However military service is mandatory and card holders can not vote.
Q: How Do I Apply In Turkey As A Stateless Person?
A: When purchasing $400.000 (USD) property, you can apply for Turkish citizenship with a required document certifying the applicant's statelessness.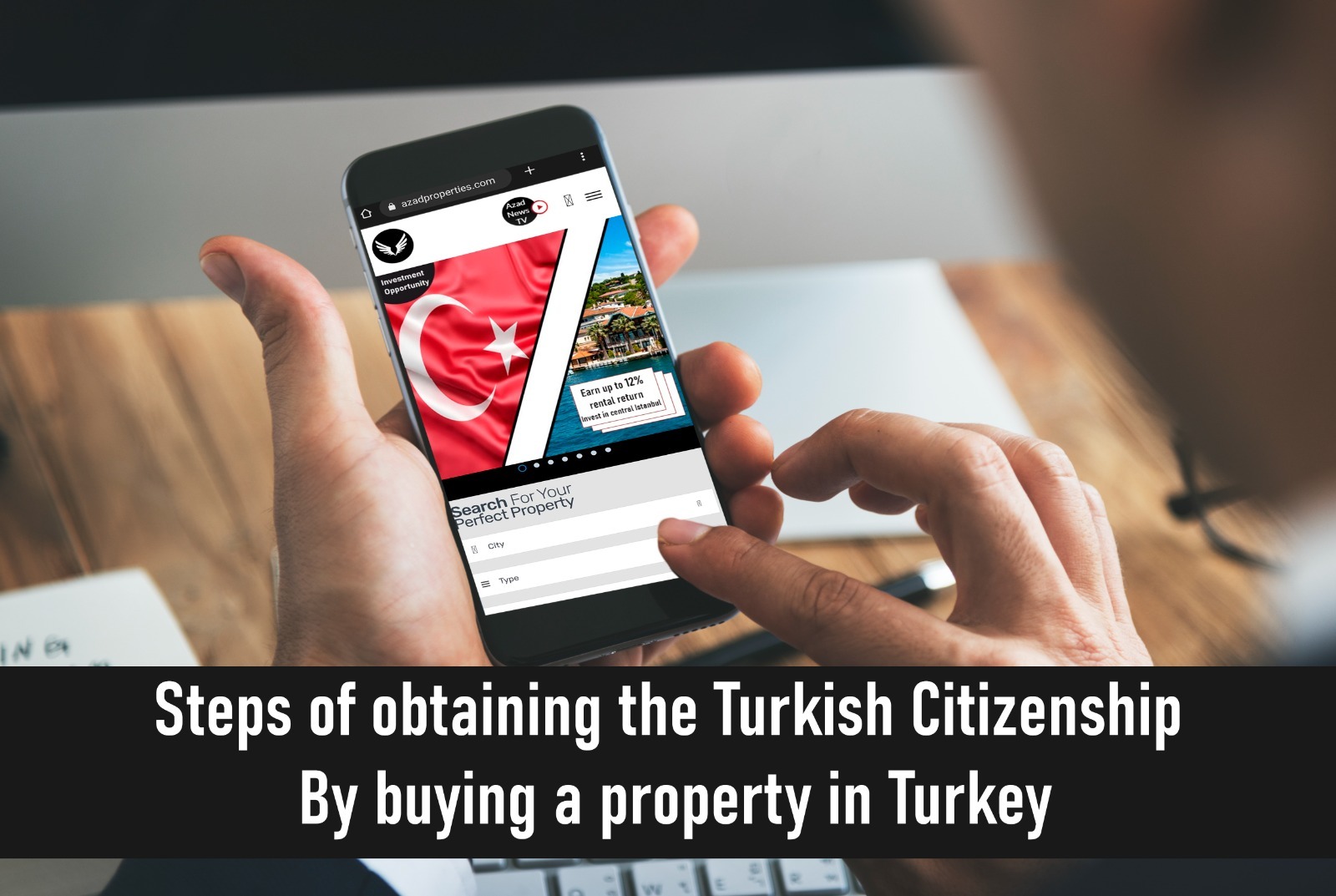 YOUR STEP BY STEP GUIDE TO TURKISH CITIZENSHIP THROUGH INVESTMENT
STEP 1: 3 Day visit to Istanbul (Only investor is required to visit, family not required).
DAY 1: Presentation at the AZAD Office and orientation to the citizenship by investment program followed by filtered property visits.
DAY 2: Select property, pay token .Documentation required; Get a tax number, Open a Bank Account and Notary Procedure.
Day 3: Finish property sales and management agreements or any leI over documentation.
STEP 2: Making full payment and prepare Documents for Citizenship
Azad gets a property evaluation report from a government authorised auditor to re-check the real price of the property.
You transfer full payment to your own Turkish Bank Account, and then transfer funds from your Turkish account to the seller's account.
Prepare documents: *Family Registry Certificate(FRC), *Birth Certificate, *Marriage Certificate, *POA from Wife, *Passport copies of all applicants. *Attested by the Ministry of Foreign affairs in the home country and translated and notarized at a Turkish consulate / embassy.
Payment for lawyers fee and citizenship application.
STEP 3: Transfer of Title Deed and Apply for Citizenship
Azad gets the bank receipts afested from the branch and receives the TAPU (title deed) on behalf of the investor.
Azad signs a 3 year no sale agreement on behalf of the investor and receives a conformity certificate.
Application for residence permit and citizenship is filled along with all the required documents.
Take possession of the apartment and put it up on rent with the consent and advice of the investor.
STEP 4: Visit Istanbul for 5 working days and get Citizenship Card and Passport
Give Fingerprints and receive citizenship cards in 2 working days.
Apply for a passport and receive it in 2 working days.
Hot Villas!